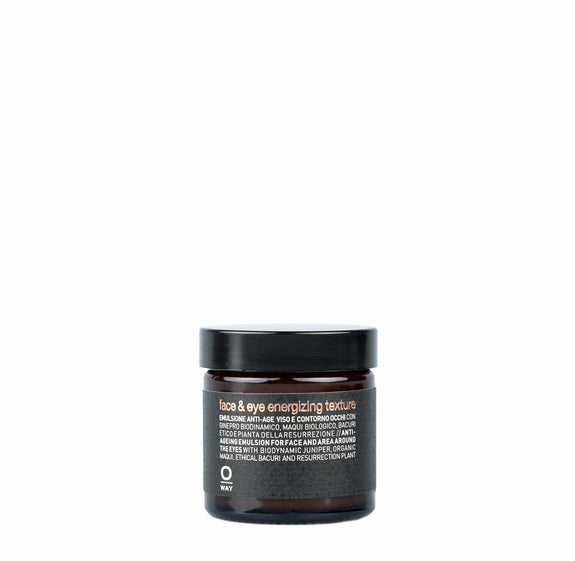 Oway Face & Eye Energizing Texture 50ml
296.00 MYR
2 in 1 anti-aging emulsion for facial skin and the area around the eyes. Suitable for all skin types. 
Benefits:
Rapidly absorbed texture.
Smoothen wrinkles, makes skin compact and elastic.
Counteracts the signs of time and skin ageing.
Energises the skin, fights oxidative stress and tiredness.
Controls excess oiliness,giving skin a matte appearance.
The Resurrection plant stimulates cell regeneration and fights free radicals
Dermatologically tested / nickel tested.
How to use:
Apply every day, morning and evening, after cleaning with Face & Beard Hydrating Cleanser. 
Active ingredients:
Biodynamic juniper: soothing and softening action, it fights irritation. It also stimulates the microcirculation of the scalp, helping fight hair loss and alopecia. Restores and strengthens the hair fibre.

Organic maqui: also called Patagonian Blueberry, it is considered the most powerful super berry found in Nature. Contains delphinidin, which produces cellular energy and slows down the ageing process. Habitat: Patagonia.

Ethical bacuri: rich in vitamin A, B and C, antioxidants and minerals, it is extremely nourishing and emollient on skin and hair. Habitat: rainforest.

Resurrection plant: regenerating, antioxidant moisturising, protective, long-lasting powerful effects. Habitat: Mexican Desert.
-----------------------------------------------------------------
OWAY product lines with natural & organic active ingredients for a healthy and sustainable lifestyle. Packaging in 100% recyclable & reusable amber glass to reduce environmental impact to a minimum.