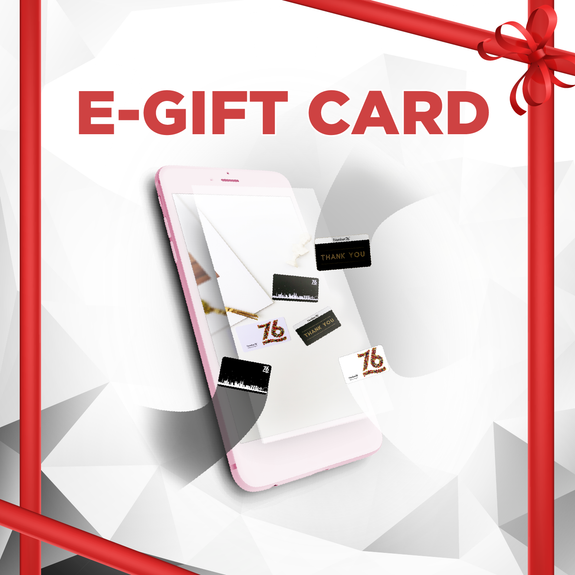 Number76 E Gift Card 【Please confirm before purchase‼】
100.00 MYR 0.00 MYR
【Please read before purchase‼】
Important Information About Our New E Gift Cards
We're excited to introduce our electronic gift cards, offering a hassle-free and eco-friendly way to share your love and appreciation.
For Current Physical Gift Card Holders Don't worry! Your existing physical gift cards will continue to be valid for use. However, please be aware that these cards cannot be top up and it will be replace to the E gift card.
How to Purchase a E Gift Card For those looking to purchase a new gift card, here's a simple guide:
Choose the desired gift card amount and complete the payment.
After your purchase is confirmed, we'll send you an email containing the card number and the gifted amount.
Present this email at our salon to redeem your gift card.
Sending a E Gift Card to Someone Else If you'd like to gift a card to someone special, follow these easy steps:
Purchase the gift card and provide the recipient's email address and name in the "Number76 Members" section during checkout.
Once your purchase is finalized, an E-Gift Card will be swiftly delivered to the recipient's email inbox.
With this streamlined electronic process, both sending and receiving gifts will be a breeze. Should you have any questions or need assistance, don't hesitate to reach out to us. We're here to help!
Number76 Gift Card
Purchase value starts from RM100 and above! 
Redemption can only be used in Number76 Hair salon in Malaysia. 
What's the benefit of having Number76 Gift Card?
No expiration date of your cash value
Gift card can be used just like cash at Number76 Hair Salon for any services or products
You can reload your amount for future usage
Remaining balance can be saved for next visit
It's a perfect gift for recipients of any age and gender

10% EXTRA Cash Value.

 

 
Term & Condition applied:
* Can only be used in the hair salon and not for online purchases. 
* Can only be used after 24 hours of purchase. 

* All extra value amount will be added into the gift card automatically upon payment. To check on the balance of your gift card, please kindly visit our hair salon and provide your gift card to the front desk!
* Purchases of gift cards will not be entitled to collection of member points. Member points can only be collected upon using the gift card for any services or product purchase at the hair salon. 
* Paddling Seventy Six Sdn. Bhd. cannot be held liable for Number76 Gift Cards once activated, which subsequently are lost, stolen, inactivated or damaged. Treat your Number76 Gift Cards as cash.
top-up matter
perhaps it can notify the customer when the top-up is successful