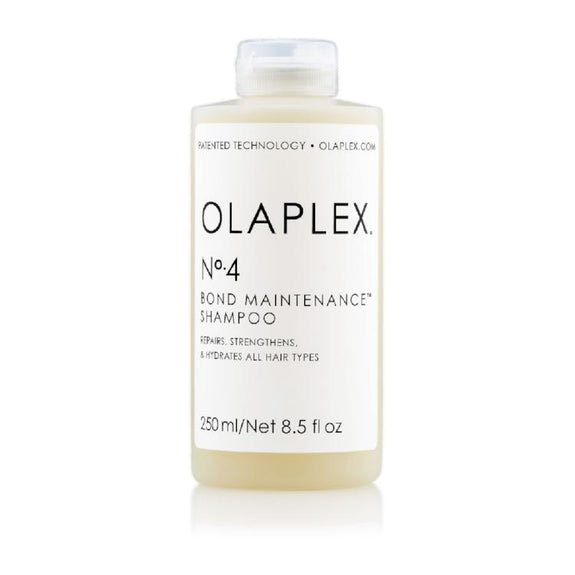 Olaplex No.4 Bond Maintenance™ Shampoo
148.00 MYR
Olaplex No.4 Bond Maintenance™ Shampoo repairs bonds while gently cleansing all types of hair. It imparts moisture, strength, and manageability with every wash in the comfort of your home. 
How to Use:
Wet hair and lather shampoo. Rinse thoroughly.
☆ Best Shampoo for Treated Hair ☆
Awarded by Vogue Beauty Awards 2018
250ML
-----------------------------------------------------------------------

REPAIR · STRENGTHEN · PROTECT

Real Science. Real Result.


In salon, Olaplex's three-step process is recommended during heavy chemical processes as it includes a patented active ingredient that works on a molecular level to seek out broken disulfide bonds in damaged hair.
It works effectively to restore compromised hair ensuring the strongest, shiniest, and healthiest hair possible.
REPAIR YOUR HAIR AT HOME.
✓ Colour Safe
✓ Paraben Free
✓ Sulfate Free
✓ PH Balanced
✓ Vegan
✓ Nut Free
✓ Phosphate Free
I love it my 1st try & impress with the outcome !
Great Service!
The first shampoo that I bought was lost but the delivery system recorded that it was collected by the person in charge of the Guardhouse. Once I informed Number76 about this, they offered to send another Shampoo for free! How often do you see this type of generosity in Malaysia? Almost never! So I want to thank Number76 for their dedication to customer service and for their amazing generosity!
Olaplex no 4 bond maintenance shampoo
I have been using for a while. Good product!
Olaplex No.4 Bond Maintenance™ Shampoo
Help restore chemically damaged hair.
My hair suffers from breakage because of coloring and straightening. Olaplex helps to condition my hair and makes it stronger so it won't easily break when I comb my hair.