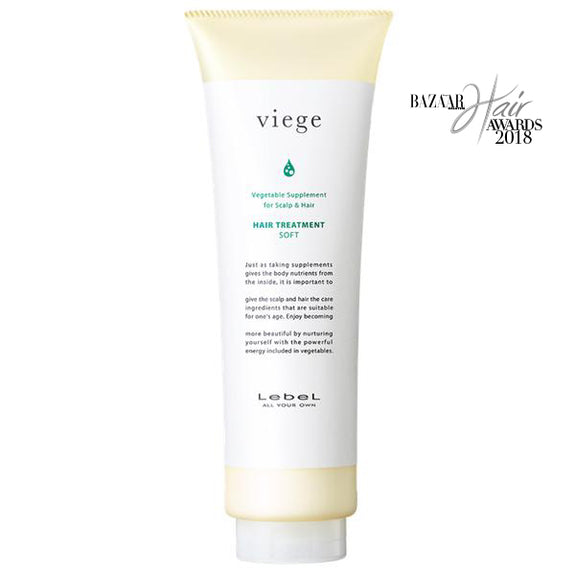 LebeL Viege Hair Treatment - Soft
99.00 MYR
Vegetable supplement for scalp and hair.
Just as taking supplements gives the body nutrients from inside, it is important to give scalp and hair the care ingredients that are suitable for one's age. Enjoy becoming more beautiful with the powerful energy included in vegetables!
Condition your hair with all the condensed goodness of nature. For softness or volume, Viege's Hair Treatment strengthens hair from within, alleviating unwanted kinks and regaining suppleness for beautiful hair. 

Rejuvenate your senses with its bright scent of fresh greens and grapefruits.
Benefits: 
✓ Increases moisture and strength
✓ Supports hair shaft for aging hair
✓ Loosens kinks that cause tangles
✓ Makes hair soft & supple from within
Power Ingredient: 
✓ Asparagus stem extract boosts softness and moisture levels
How To Use: 
After shampooing, apply to wet hair from mid-length to the ends of your hair. Massage the conditioner for about 30 seconds until your hair feels soft and smooth. Rinse thoroughly. 


Natural and effective
I have always struggled with course hair, and whenever I color my hair, damaged ends. The Viege Soft Hair Treatment is very kind to my hair and keeps it hydrated from one wash to another. A great product. I will buy the 1L pack to save money over the long run. Very worth the money paid.
Lebel viege hair treatment - soft
Not too oily and hair is smooth and soft
LebeL Viege Hair Treatment - Soft