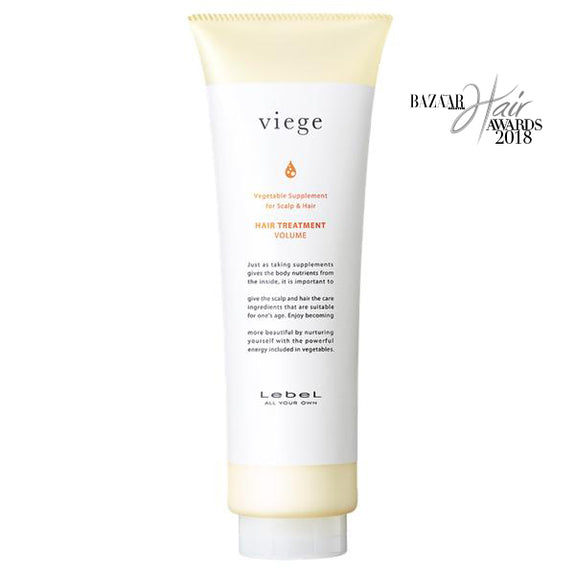 LebeL Viege Hair Treatment - Volume
99.00 MYR
Vegetable supplement for scalp and hair.
Just as taking supplements gives the body nutrients from inside, it is important to give scalp and hair the care ingredients that are suitable for one's age. Enjoy becoming more beautiful with the powerful energy included in vegetables!
Condition your hair with all the condensed goodness of nature. For softness or volume, Viege's Hair Treatment strengthens hair from within, alleviating unwanted kinks and regaining suppleness for beautiful hair. 

Rejuvenate your senses with its bright scent of fresh greens and grapefruits.
Benefits: 
✓ Increases moisture and strength
✓ Supports hair shaft for aging hair
✓ Loosens kinks that cause tangles
✓ Makes hair soft & supple from within
Power Ingredients: 
✓ Burdock root extract increases moisture and elasticity

 How To Use: 
After shampooing, apply to wet hair from mid-length to the ends of your hair. Massage the conditioner for about 30 seconds until your hair feels soft and smooth. Rinse thoroughly. 
love the smell of this shampoo
it was recommend by my friends. however its give my scalp itchy after 2 days shampoo so its like a daily shampoo totally daily, one day skip my hair will be itchy . second i buy from this website it was my fault i put pickup, theres no notify or email send to me that clarify my item is ready to be pick , no one respond to my email and only ig help me out.
Packing
Satisfaction with the product but disappointed with the packing (bottle dented). Hope can improve in the part. Tks
Everything good except the courier service
Took too long time to deliver