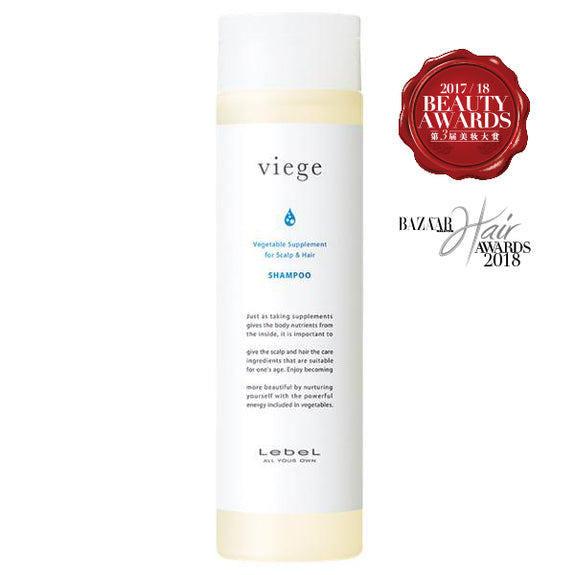 LebeL Viege Shampoo
89.00 MYR 0.00 MYR
Vegetable supplement for scalp and hair.
Just as taking supplements gives the body nutrients from inside, it is important to give scalp and hair the care ingredients that are suitable for one's age. Enjoy becoming more beautiful with the powerful energy included in vegetables!
The refreshing and calming scent of Viege Shampoo alone is enough to set you in a good mood after a bath. It is also efficient in cleansing off excess sebum, metal ions and odor to restore a healthy scalp with its antibacterial and anti-inflammatory properties.
Rejuvenate your senses with its bright scent of fresh greens and grapefruits.
Benefits: 
✓ Gently cleanses delicate scalp
✓ Neutralizes metal ions in tap water 
✓ Antibacterial & anti-inflammatory
✓ Supports penetration of treatment

Power Ingredients:
✓ Loofa Extract
✓ Perilla Extract

How to Use: 
Wet hair and lather shampoo. Rinse thoroughly.
Shampoo
Smells nice and smooth after use
Good shampoo
Product is good, very nice smell & a coin size amount sufficient for a medium long hair (I am thinning hair tho)
One thing should improve is the follow up customer service.
No one bother to attend e-commerce email: [****]
Luckily there's still someone helpful via messenger to attending me.
Online shop is meant for convenience but end up create hassle. Offline store not able to do anything due to different platform & online email no one entertain.
I will think twice if I want to repurchase your product online.
Recommended by Hikky-san
Repeat purchase! I feel the hair loss become lesser and lesser after using this shampoo.