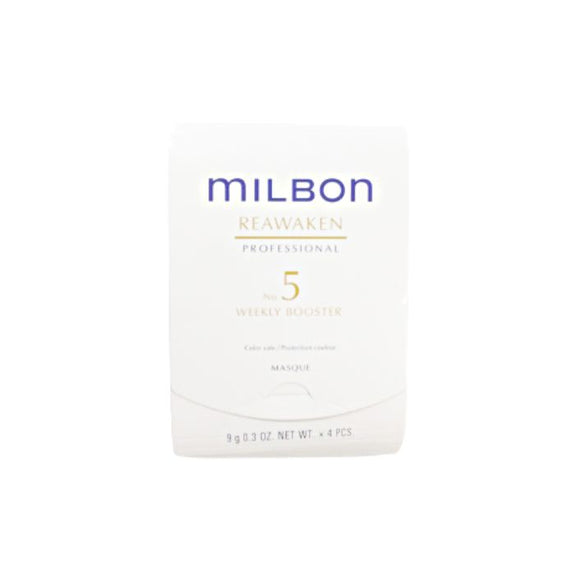 Global Milbon Reawaken No.5 Weekly Booster(For Aging Hair)
57.00 MYR
Global Milbon Reawaken
Concerned about loss of luster, dryness, and loss of long-lasting care effects, this treatment leads to beautiful adult hair that is shiny, moisturized. 360 degrees, beautiful from any angle. Beautiful hair alone makes you shine.
Who would you recommend?

Those concerned with hair aging. Age-related hair changes are a universal concern. The "REAWAKEN" series, which means "to awaken again," address three hair concerns: loss of shine, dryness of hair, and loss of long-lasting results from hair care.
It responds to changes in hair and gives brilliant shine going forward.

Global Milbon Reawaken No.5 Weekly Booster

After shampooing, rinse thoroughly and apply mainly to the ends of the hair.
Rinse off with lukewarm water. One bottle per week is the standard usage.
Feature
–
Arraying Oil

*

smooths out misaligned hair flows, leaving aging hair lustrous and beautiful.

*It provides a high shine-enhancing result with oil that resembles the liquid oil in the hair that declines with age.
What makes the aging hair shine is the hair flow on the surface.
Aging hair looks lusterless not because of individual hair strands, but because the hair flow of the outer surface is misaligned.

Milbon has established an original analysis method to score misaligned hair flow.
This analysis clarified the relationship between misaligned hair flow and shine due to age-related changes.
When hair becomes supple, beautiful hair flow is created as it moves.

Milbon discovered that the proportion of liquid oil present inside the hair decreased with age and elucidated that this phenomenon makes it difficult for the hair to move smoothly, leading to misaligned hair flow.
Restore shine with Arraying Oil, which is similar to the liquid oil in the hair and has a high shine-enhancing effect.
To address age-related shine changes, we searched for oils that are similar to the liquid oil in the hair. By supplementing with Arraying Oil, movement of the hair increased and observed a significant improvement in shine.
–Aqua Capturer* adds moisture in and seals in the hair.
*A natural moisturizing factor consists of 12 amino acids and more,
which have both hydrophilic and hydrophobic structures.
The silkiest texture in the lineup, leaving you with a soft and manageable finish. It contains a light oil that moisturizes and leaves the hair smooth and silky.

An increase in hydrophobized hair proteins as we age causes dry hair.
There are two types of hair proteins: hydrophilic proteins, which easily retain moisture, and hydrophobic proteins, which do not. The proportion of hydrophobic proteins increases with age, and hair becomes dry.
Aqua Capturer increases the amount of moisture in the hair and prevents it from escaping.

Aqua Capturer acts on hydrophobic proteins to improve moisture retention
and reduce dryness of aging hair.


–Promotes Longer Lasting Results of Renewing Technology.
"I take care of my hair the same way as before but can't feel the effects." The haircare effects not lasting long is a common phenomenon for aging hair.We found that the reason for shorter-lived haircare effects is because the care ingredients are more easily washed off by daily shampooing for aging hair compared to the hair in one's 20s.