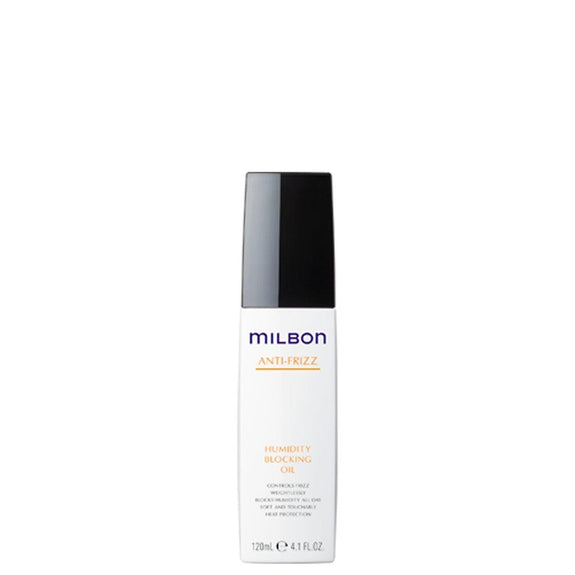 Global Milbon Anti-Frizz Humidity Blocking Oil 120ML
127.00 MYR
Eliminate Frizz, Define Waves & Curls. 
Surround yourself with the scent of refreshing, juicy smell when using the Anti Frizz range! Advanced with feather light formulation through the use of 5 superior botanical oils, Jojoba, Argan, Baoba, Olive and Shea, you'll be able to lock in your optimal moisture distribution, keeping frizzy hair at bay.

Perfect for all types of frizz-prone hair
Product is color safe. 
Power Ingredient: 
✓ SSVR-SIlk™

SSvs (Stick-Shaped Voids) are hollow, tubular gaps that form in chemically treated hair-and which seem to contribute to loss of shine, split ends, and breakage. Through SVR-Silk™, this powerful, silk-based complex which supersedes these hollow tubular gaps-and improves hair's overall integrity, inside and out.
Others ingredients: Jojoba, Argan, Baobab, Olive and Shea.
How To Use: 

Use after shampoo and conditioning your hair. Take 1 to 2 pumps depending on the amount of your hair volume. Apply on towel-dried hair from mid-lengths to ends.

Recommended to use daily for best results.


"Milbon is a salon exclusive brand. Please consult your stylist prior to purchase"
Global Milbon Anti-frizz Humidity Blocking Oil
Smells so nice & does reduce my hair frizz well. Would repurchase again. Delivery considerably fast considering it's MCO time
Anti frizz for sure!
I used this for the first time to the beach.
I wash and blow dried with applying this oil the night before I went to the beach. And I am very happy & satisfied with the way my hair was only 10% frizzy!
Love the scent too!
スタイリングしやすくなりました
広がりやすい私の髪の毛も、オイルを使うことによってまとまり、スタイリングしやすくなりました。くせ毛の方は良さをより実感できると思うのでオススメです。