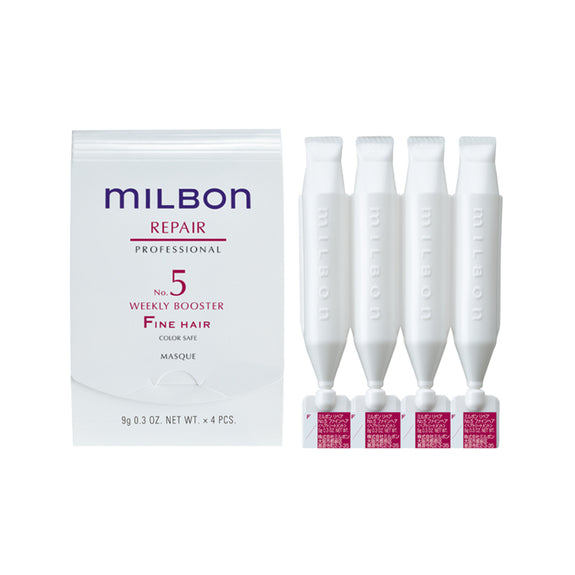 Global Milbon Repair No.5 Weekly Booster
37.00 MYR 0.00 MYR
Global Milbon Repair Series targets severely damaged and over processed hair. 
Restores hair to look, feel and behave as if it had never been damaged in the first place with CMADK, a repairing ingredient that prolongs the repair effect of SSVR-Silk.
This product comes in a four travel-friendly tubes.
Power Ingredient: 

✓ SSVR-SIlk™
SSVR-Silk is a powerful, silk-based complex which supersedes hollow tubular gaps that form in chemically treated hair— which seem to contribute to loss of shine, split ends, and breakage. It effectively improves hair's overall integrity, inside and out. This groundbreaking ingredient is now incorporated in all-new Global Milbon signature items. 
How To Use:
After shampooing, apply to wet hair from mid length to ends and massage in until your hair feels soft and smooth.
Leave in for a few minutes then rinse thoroughly.
Recommended to use weekly for best results.

 *Price inclusive of GST
1st time shopping on number76 website
It was very easy to buy products on the website, and shipping was fast.
Global Milbon Repair No.5 Weekly Booster
Good service and product
I have been using Milbon repair mask because it is good. As for moisture mask, I have not tried it yet. I guess it will just as good since Milbon products are of good quality.
I have pleasant experience buying products at Number76 online and interacting with their customer service team.
excellent result as always