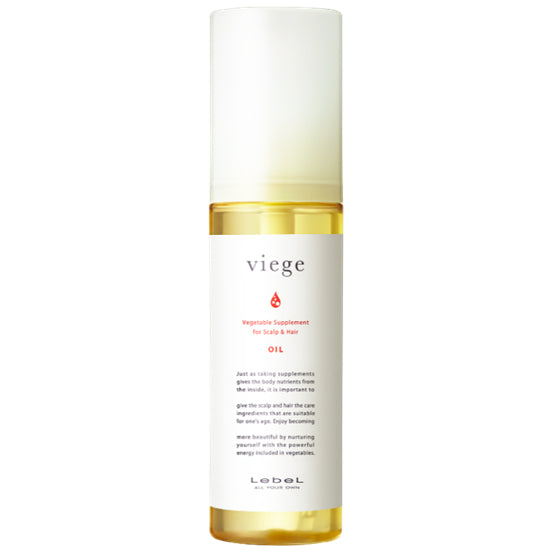 LebeL Viege Hair Treatment Oil
127.00 MYR
Vegetable supplement for scalp and hair.
Just as taking supplements gives the body nutrients from inside, it is important to give scalp and hair the care ingredients that are suitable for one's age. Enjoy becoming more beautiful with the powerful energy included in vegetables!
A blend of botanicals in Viege Hair Oil instantly combat roughness and dryness on dry hair while leaving hair as light as air with improved texture and manageability. Flaunt the glossy radiance!
Rejuvenate your senses with its bright scent of fresh greens and grapefruits.
Benefits: 
✓ Coats hair for radiant shine
✓ Repairs dry, damaged hair shaft
✓ Restores softness to hair texture
✓ Increases hair manageability 
✓ Maintains airy lightness

Power Ingredients:
✓ Perilla Oil
✓ Sugar Cane Squalene
✓ 12 Types of Plant Oil

How to Use: 
After shower, towel dry hair and apply 1-3 pumps and spread evenly through mid-length to hair ends. Then blow dry or air dry style as usual.
Great hair oil
I usually use hair oil because my hair was damaged and dry. Most of them are too oily and sometimes causes acne on my back. This product is not too oily and smells good. Love it!
Good and has a nice scent.
Light and non sticky
Very light compared to other hair oil. Non sticky and easily absorb.