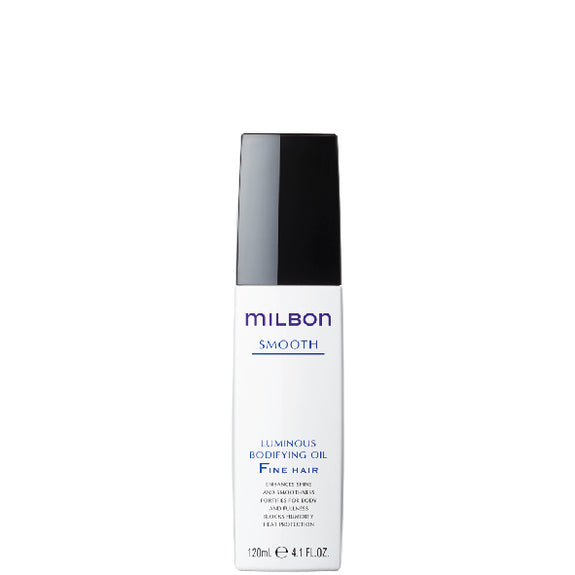 Global Milbon Smooth Luminous Bodifying Oil
127.00 MYR 0.00 MYR
Enhance smoothness and shine with this luxurious oil enriched with baobab oil and olive squalane.
Milbon Smooth Luminous Bodifying Oil for fine hair is formulated with collagen to fortify and thicken fine, limp hair while boosting body and fullness for desired styling. It also provides heat protection to minimize damage from regular heat styling. 

Power Ingredients: 

✓ SSVR-SIlk™
SSVR-Silk is a powerful, silk-based complex which supersedes these hollow tubular gaps-and improves hair's overall integrity, inside and out. This groundbreaking ingredient is now incorporated in all-new Glolbal Milbon signature items. 

✓ Baobab Extract
Extracted from the baobab superfruit, it effectively restores cuticles to evenly soften hair's surface for improved manageability. 
How To Use: 
Apply on towel-dried hair from mid-length to ends. It can either be used before blow-drying to prep for styling or as a daily leave-in treatment to smoothen hair. 
 

Milbon smooth luminous b oil for fine hair.
I recently had my hair cut to bixie style by Ellen. I am happy with it. So this product is really rich and thick. I just need a half pump for my short hair. It does soften and smooth out my hair even without using conditioner. Btw I have fine hair.