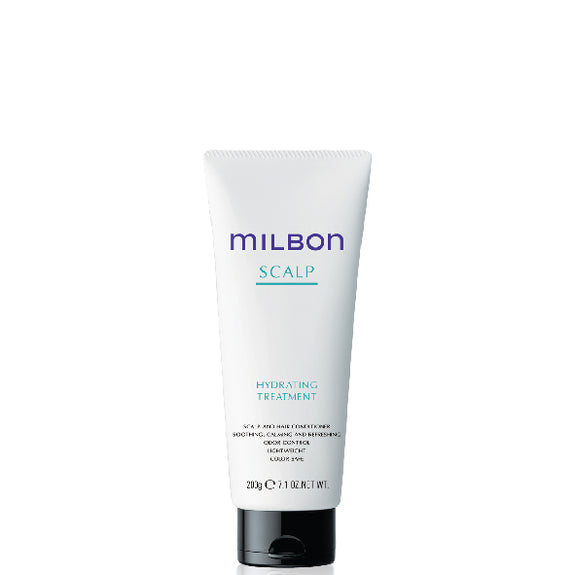 Global Milbon Scalp Treatment
110.00 MYR 0.00 MYR
It is found that 80% of women in the world have scalp troubles. Based on survey done by Milbon, more than 60% of these women are not implementing the proper scalp care. 

ITCHY · DANDRUFF · DRY · STICKY · SMELLY

5 Troubles, 1 Solution

The common reason behind 5 major scalp troubles are due to excessive fatty acids.
Global Milbon Scalp Care is thus created to remove excess fatty acids and replenish moisture to hair, which consequently leads to clean scalp and healthy, shinier hair.
This hydrating treatment serves as the second step to normalize scalp by replenishing essential moisture and oil with this lightweight hydrating treatment for the scalp and hair. Skincare-grade sugar squalane bolsters the scalp's naturally occurring hydrolipid film to bind in moisture and protect the scalp – while imparting a natural shine to the hair and ensuring fullness.
Benefits:
✓ Replenishes moisture to scalp
✓ Relieves dryness & itchiness
✓ Dandruff-control
✓ Reduces stickiness & odour

Power Ingredient: 

✓ Licorice Root

✓ Soothing Menthol

✓ Botanical Extracts - Tea leaf, pot marigold flower, bitter orange peel

✓  SSVR-SIlk™ is a powerful, silk-based complex which supersedes these hollow tubular gaps-and improves hair's overall integrity, inside and out. This groundbreaking ingredient is now incorporated in all-new Glolbal Milbon signature items. 

How to Use:
After shampooing, apply to wet hair and gently massage into scalp. Rinse from scalp and hair thoroughly. Use daily for best results. Tip: After applying to the hair, spread the conditioner well on all fingertips and slide the pads of your fingers directly on the scalp in an upward motion to evenly distribute.

I feel my scalp is less itchy and less dandruff
Global Milbon Scalp Treatment
Global Milbon Scalp Treatment
Global Milbon Scalp Treatment
I haven't received anything yet. Kindly check